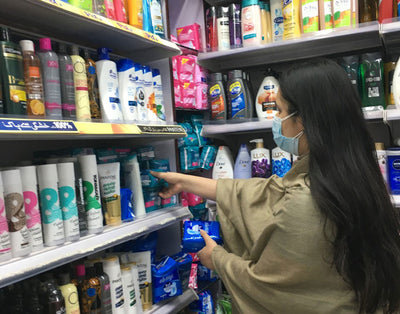 My Experience With Sex, Sex Education and Sexual Desire as a Young Muslim, Pakistani Woman
3 weeks ago, I accompanied my newly-wed friend to the gynecologist's office who had just developed a yeast infection after having sexual intercourse for the first time.
She had to explicitly inform the doctor that she has just gotten married and the doctor asked her if she had had her "husband relations?" She was confused and didn't understand what relations the doctor is talking about, until it hit her that she's asking if they've engaged in sexual intercourse.
.. and that tells you just how Muslim, Pakistani women talk about sex. We don't. We don't give it a name. We disguise it when we're forced to talk about it. Medical professionals do not use medically appropriate terms for it.

And what happens when we do talk about it? When we address it? We talk about it as an "offering" a woman gives to a man.
Let me tell you how.

On the way to the hospital, the friend's mother called me and said "Look, don't tell her I told you this but it's not that big a deal. These things happen, it's nothing major. The doctor will most likely insert a tablet inside her vagina and she will have to keep it inside for a couple days, don't let the doctor do that because she won't be able to 'do it." I responded saying "yes of course she won't be able to, it's irritated and itchy, and she shouldn't be having sex till it heals." Her mother was very adamant and said "No, make sure the doctor doesn't insert the tablet because she's been at my place for 4 days now and when she goes back to her in laws, her husband will be deprived therefore she will have to have sex and shouldn't get the tablet inserted. This way her husband's needs won't be fulfilled. Tell her to just deal with the pain for one day, it's not that unbearable."

This is a mother telling her daughter to deal with the pain because her husband's needs won't be full filled, and that as a newly-wed wife, who has moved into his family home, it is her responsibility to keep him pleased.

Let that sink in. Your own mother encouraging you to bear pain rather than say no.

This is the reality of hundreds of thousands of Pakistani girls.

First, no sex education at all what so ever, then being thrown into a marriage where you are expected to "consummate" the marriage on the very first night and give in to all of your husband's wants, needs and demands without having a say over your own body.

Lack of sex education and a lack of acknowledgment of women's sexual desire has benefited Pakistani men which of course puts women at a disadvantage but also men themselves.

This is how.

Sex shaming and shaming the female body as a whole doesn't just happen inside homes but is also culturally accepted outside homes.

Along with sex, we also like to pretend that periods don't exist.

Shopping for female hygiene products, for menstrual and sexual products can be a rather awkward experience for most Pakistani women and girls.

Menstrual cups and tampons aren't widely available at stores and pharmacies because we're too attached to the idea of "virginity" therefore don't openly sell products that are to be inserted inside the vagina. All we're left with are pads. You'll find these in a separate aisle. You'll also find brown paper bags at the end of the aisle to "hide" the product in because the cashiers are male and pads need to be "concealed" from them. The irony is that the cashier takes the product out to scan it and then puts it back in the paper bag.

Does that make sense? Absolutely not.

Much like how cashiers at the pharmacy behave when a women that "looks unmarried" asks for over the counter birth control. While they have no legal right to question a woman on her marital status (pre-marital sex is illegal in all Islamic countries) male cashiers will make women feel uncomfortable for asking for birth control. This behavior includes inappropriate questioning stares, whispers between the male staff, delaying giving the medicine, pretending that it's out of stock, making excuses for its unavailability, indirectly questioning where the male partner is and sometimes even straight up denying them access to the medication.

Shopping for female hygiene products, menstrual hygiene products, vaginal health products and products used for sex such as lube and condoms can be incredibly awkward and uncomfortable for women and girls across Pakistan, which is why they will almost always purchase them with their regular grocery for these products to not be singled out.

While most cashiers will behave completely normal, especially in large stores and pharmacies in urban cities and not harass women and girls while they shop, many male cashiers will take the opportunity to put women in an uncomfortable position.

While the process of normalizing the purchase of menstrual and sexual products may be slow, many women across the country refuse to purchase "secretly" and hide their pads in black plastic bags and brown paper bags. Detaching shame from these shopping experiences have allowed women to confidently buy what they need which sends a strong message of normalization decreasing the uncomfortable atmosphere between female customers and male cashiers.

Conversations with Kanwal is a show founded by Kanwal Ahmed, founder of Soul Sisters Pakistan that is the largest women only Facebook group to exist on any social media platform for Pakistani women. This show sheds light on taboo topics that are looked at as being "dirty, vulgar, and inappropriate"

On a recent episode, Kanwal talks about sexless marriages which are more common than the average Pakistani expects, only because they are not addressed, not acknowledged, not talked about.

The guest on the show shared her story of not being able to engage in sexual intercourse because of how painful it was for her, and that every time her husband and she tried, they had to stop because the pain was unbearable. Her husband and her couldn't figure out what was wrong so she spoke to her mother, who completely invalidated her struggle of having sex, shrugged her off completely and said that what you're telling me is impossible and that pain is expected, you need to bear the pain and try harder.

She did, and it didn't work.

So she told her friends, they laughed and said it's meant to be painful, you're just supposed to be able to take it.

She visited a gynecologist, who said that if this was my daughter who said she couldn't have sex, I would slap her twice and make sure she does it without complaining.

Yes, you read that right, a medical professional encouraging violence as a way to make a 20 year old women forcefully have sex.

Mind boggling? You're not prepared for what's coming next.

After feeling defeated from visiting doctors, Maryam visited a religious priest who told her husband that this woman is dreaming of another man, wants to cheat on you, therefore her body is not opening up to you and she has trapped you as you are not able to receive pleasure through sex.

Can you believe that?

As unbelievable as that sounds, this too, is the reality of thousands of Pakistani women.

It wasn't till she moved to the UAE, met a doctor, who upon examination diagnosed her with having tight hymen tissues. She explained that these tissues usually dissolve over time as a female grows, but hers didn't and they can be surgically removed. Surgery was performed, she healed, and was able to have sexual intercourse and successfully got pregnant within a month of having the surgery.

Although Maryam had her happy ending, a healthy sex life with her husband and two successful pregnancies, she says that she isn't over the emotional turmoil that these 6 years of not being able to have sex caused to her because of how everyone around her treated her.

Maryam spoke on the relevance of sex education and said that had she been taught about the female body explicitly at school, she would've been able to point a finger at what's wrong. She said that had she been given sex education from either her parents or teachers where she knew what's normal and what signs could mean that something's not right, she would've sought medical attention with perseverance herself.

So, what's my experience with sex, sex education and sexual desire as young Muslim, Pakistani woman you ask? None.

And this is why.